19 Fun Science Experiments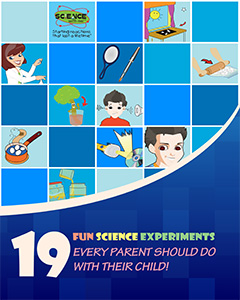 19 Fun Science Experiments Every Parent Should do with Their Child!
In this wonderfully laid out and illustrated E-Book your child will learn the answers to questions such as How do plants drink?, Can I play tricks with my eyes?, Can sound travel inside my body?, Can sugar give off light?, Do all liquids mix together?, Do clouds have names? and many more. The experiments are designed to engage your child in both "hands on" and "minds on" learning. Material is presented in a clear, visual and fun way with a "Parent's Corner" at the end of each experiment to help you strike up conversation with your child and reinforce key scientific concepts learned. For the price of a cup of coffee, this engaging e-book will develop your child's thirst for science!