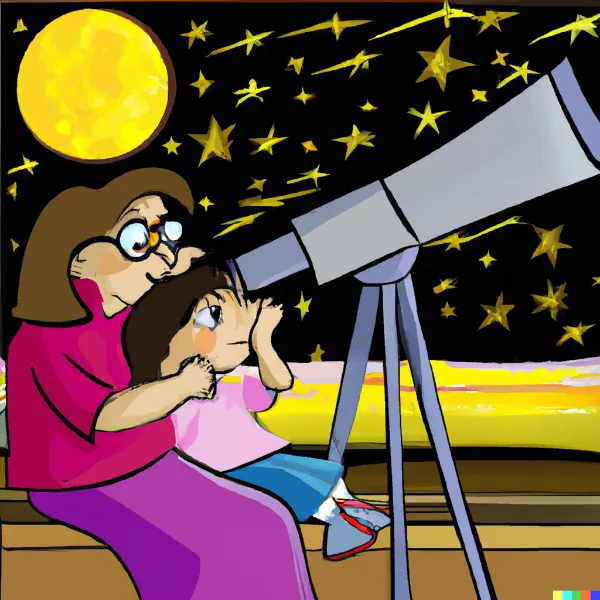 As a parent, it can be exciting to introduce your preschooler to the wonders of the night sky. One of the best ways to do this is by purchasing a telescope specifically designed for young children.
One of the top telescopes for preschoolers is the GeoSafari Jr. Talking Telescope. This compact and easy-to-use telescope is perfect for little hands, and little ones can view it's amazing, built-in space images without the frustration that comes with focusing and closing one eye. What a wonderful way to get your child interested in learning about the moon, planets, and other celestial objects. It also will encourage you as a busy parent to spend a few minutes at the end of your (undoubtedly) exhausting day viewing and learning about the night sky with your kid.
Another excellent option is the AOMEKIE Telescopes for Kids with K6/25 Eyepieces. This simple and affordable telescope is designed for young stargazers, and it provides high-quality views of the moon and other objects in the solar system. It also comes with a durable tripod and is easy to assemble and disassemble which makes it ideal for children.
For a more advanced option, consider the Meade Instruments Infinity 70mm Aperture, Portable Refracting Astronomy Telescope
This telescope is suitable for older children, and it provides clear and bright views of the night sky. It also comes with a finderscope and a red dot viewfinder to help your child locate objects in the sky.
Overall, there are many great telescopes available for preschoolers and young science enthusiasts. With the right telescope, your child can learn about the stars, planets, and other celestial objects, and develop a lifelong love of astronomy.
We hope we have given a few more simple ideas for teaching, talking and doing science with your inquisitive science-thirsty kids!
Oh, why should little ones learn science, you ask?
It's a subject that's big and vast.
With science, you can explore the world,
And uncover secrets that have unfurled.
You can learn about stars and planets too,
And the animals that live in the zoo.
You can discover how things work and why,
And even build things that can fly.
With science, you can make predictions,
And conduct experiments and investigations.
You can learn about chemistry and physics,
And even study the mysteries of genetics.
So, why should little ones learn science, you see?
It's a subject that's full of wonder and glee!