Learn About Air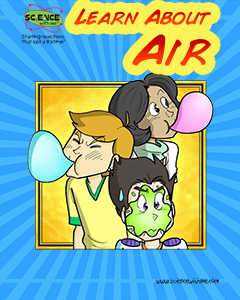 In this entertaining Comic Book you kids will learn and REMEMBER 8 key scientific concepts about AIR. After they have finished reading and laughing they will know that
Air is Matter
Air expands when heated & contracts when cooled
Air weighs something
Air pushes in all directions
Air moves
Fire needs air to burn
Air has volume &
Air has pressure.
Concepts are presented in a clear, visual and fun way in a way that kids can relate to and will remember. For the price of a cup of coffee, this engaging comic book will start a reaction that lasts a lifetime!